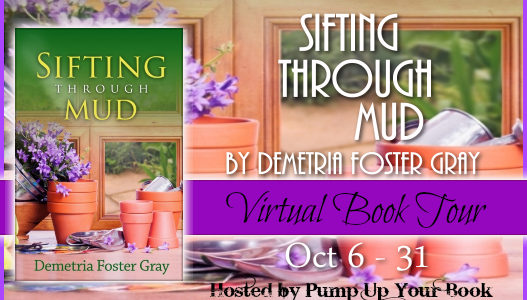 Wooo Hooo! Today marks the start of my online publicity tour and I'm excited. The tour runs from October 6th through October 31st. Finally, after a couple of false starts with previous book tours, I've finally found a touring company that delivers on their promise.
Join me and my touring host Pump Up Your Book for a three-week book tour of my debut novel Sifting Through Mud. There will be author interviews, guest posts, book spotlights, excerpts and, of course, prizes and giveaways. And who doesn't like prizes and giveaways?
Click here to access my book tour page and see the tour schedule, giveaways, and more.
Also to wet your whistle, my fellow writer/friend, Quanie Miller, is kicking things off with a book spotlight. Check it out here.
I hope you'll all join me—virtually—on this three-week tour. Here's all you have to do:
View the tour schedule for locations & dates
Pick the tour stops to visit (or visit them all)
Enter to win prizes/giveaways
Hop along and enjoy the ride (even leave a comment or two if you'd like)
The best part about a virtual tour is you never have to leave home to participate. And, of course, you win stuff. Easy peezy! Don't forget to tell all your friends.
See you on the tour!