My Books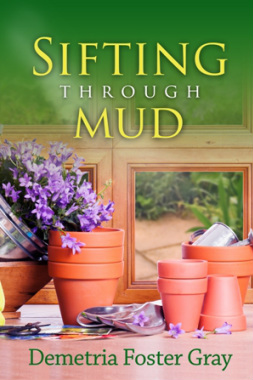 Now Available!


Title:
Sifting Through Mud

Genre:
Contemporary Fiction
Buy the Book:
Amazon
Barnes and Noble
Scuppernong Books
Books-A-Million

(also available at other book retailers)



Summary:
The death of Nyla's husband comes as a shock to everyone except Nyla. What's shocking to Nyla is her inability to grieve his death like a typical loving
wife should grieve.
But Nyla isn't a typical loving wife. She's a woman in desperate need to breathe. The oxygen in her life has long gone, and the astonishing thing she feels from her husband's death is relief, not grief.
Even more astonishing is the rare and unexpected friendship which develops between Nyla and her dead husband's mistress. However, Nyla isn't aware her new best friend is a former mistress. And as their friendship deepens into an unshakable bond, Nyla is forced to face secrets her husband took with him to his grave. This means she has to sift through mud to unravel the truth. A truth that's better off dead.
Yet through it all, the one thing which makes Nyla violently breathless, is the exact same thing that causes her to finally breathe.

_____________________________________________________________

What People are Saying about Sifting Through Mud:

Demetria Foster Gray delivers a heart-stopping, emotional punch with her debut novel,
Sifting Through Mud
. The boundaries of friendship are reinvented in this sexy, thought provoking tale of two women on a tightly woven journey of self discovery.
Sifting Through Mud
is rich with characters you'll laugh with, cry with, and pull for in the end. --
Lynn Chandler Willis, award-winning author of The Rising, and Wink of an Eye
* * *
In her debut novel, Demetria Foster Gray delivers a stunning tale of friendship, love, and sacrifice. Full of twists and turns,
Sifting Through Mud
leaves you breathless as friends, Nyla and Vivian, push the limits of their convictions, friendship, and love. These women are strong, smart, and beautiful with whom you instantly connect. Feeling the emotional struggle of each character, your heart aches for them, their decisions, and ultimately your own as you find yourself choosing between them.
Sifting Through Mud
is simply stunning.
--
Cindy Cipriano, award-winning author of The Circle, and The Choice
* * *
I loved reading
Sifting Through Mud
because the story is far different from anything I've read previously. It tells the complicated story of a friendship that develops between Nyla, who's estranged husband, Nathan, recently died, and Vivian–his mistress. Both Nyla and Vivian are complex, well-developed characters. While Nyla has no clue who Vivian really is, or about the growing secret that she's keeping, Vivian knows exactly who Nyla is.
As the bond between Nyla and Vivian deepens, Vivian's betrayal looms larger. Yet, despite this, and Vivian's other major faults, I couldn't help but to feel empathy toward her character. This is due to Gray's layered development of Vivian's character, which shines throughout this book.
Gray also did a splendid job in developing three-dimensional secondary characters that sparkled and enhanced the story. I look forward to reading whatever Gray writes next. I'd even be happy to revisit the lives of Nyla and Vivian. --
Reese Ryan, author of Making the First Move, and Love Me Not
* * *
A true pager-turner! It was steamy, witty and smart. I was angry, happy and sad all in the same hour! I would recommend this book to book clubs as there are several issues to debate. This book had me call into question my view or handling of forgiveness. Strange things happen in life, it is what we do, when the dust settles, that defines us! --
Jennifer Joines, Amazon Reviewer

---